In the ever-evolving landscape of cybersecurity, differentiation is more than just a competitive advantage—it's a survival imperative. Standing out in a sea of similar solutions demands a well-defined product positioning strategy. But what does it look like when it's done right?
In this post, I'll dive into the positioning strategies of three industry leaders (based on Gartner Magic Quadrant for Endpoint Protection Platforms 2022) —Microsoft, CrowdStrike, and SentinelOne. Each of these companies managed to establish itself in the crowded cybersecurity market and positioned its solution as unique, compelling, and, above all, necessary for its target audiences.
By dissecting their positioning strategies, we can uncover valuable insights and practical lessons that can be applied when developing or refining your own cybersecurity solution's positioning in the market. Let's dive into the world of cybersecurity positioning wars and the battle for differentiation, customer mindshare, and supremacy.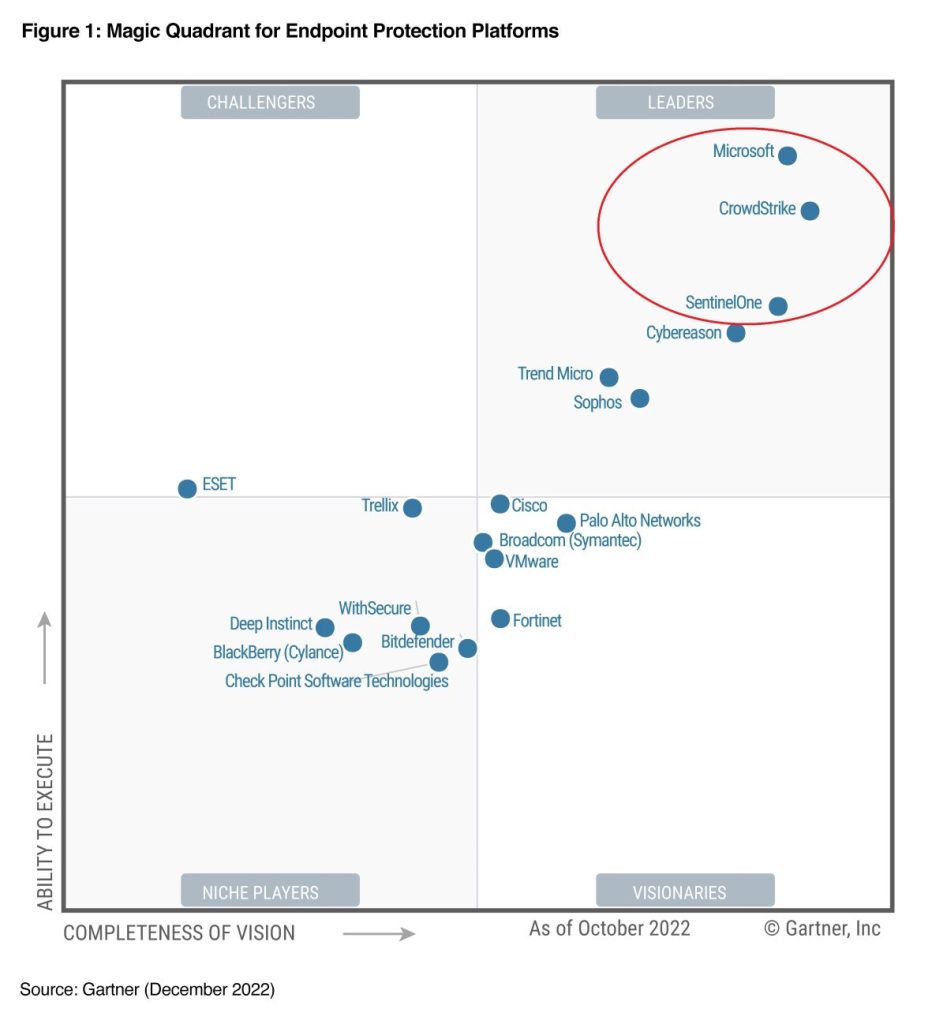 Dissecting the Positioning Strategies of Industry Leaders
Before we dive into the individual strategies of our chosen leaders, it's essential to establish what we mean by "positioning." Simply put, positioning is how a product is defined on the important attributes (like ability to detect threats, or easiness of use) resulting in the place the product occupies in consumers' minds relative to competing products. Effective positioning allows a solution to differentiate itself from the competition and build a unique space in the target audience's mind.
Now, let's take a closer look at each of these industry leaders, their unique selling propositions (USPs), their target audience, and their messaging.
Microsoft's Product Positioning Strategy
Microsoft is a giant and successfully leveraged its size and install base. It made a strong name for itself in the cybersecurity market with its cloud-based solution, Microsoft Defender for Endpoint. The company's USP lies in its cloud-based platform and its wide range of integrations, particularly with Microsoft 365 Defender. This provides users with a comprehensive view of their organization's security posture.
The audience targeted by Microsoft is broad, including small businesses, large enterprises, and government agencies. They have even catered to smaller businesses by offering a free version of their solution, broadening their market reach.
In their messaging, Microsoft consistently presents Microsoft Defender for Endpoint as a "complete endpoint protection solution." They also support their claims with robust data, like a detection rate of 99.9%, to enhance credibility.
The focus here is on comprehensive coverage, seamless integration, and a complete security solution — addressing the needs of diverse organizations and industry sectors. The negative side of Microsoft's offering is the complexity of its licensing and packaging options. But this is no surprise, as you generally need a master's degree to be able to navigate Microsoft licensing.
CrowdStrike's Product Positioning Strategy
CrowdStrike has taken the cybersecurity industry by storm with its impressive endpoint detection and response (EDR) capabilities. The company's USP centers on its excellent EDR competencies and high detection rates, illustrated by its solution, CrowdStrike Falcon, which boasts a detection rate of 99.7%.
Just like Microsoft, CrowdStrike targets businesses of all sizes, from small enterprises to large corporations and government agencies. To accommodate potential customers wanting to test their services, CrowdStrike offers a free trial for businesses of all sizes.
When it comes to messaging, CrowdStrike consistently asserts itself as the "leader in endpoint detection and response." Like Microsoft, CrowdStrike uses data to fortify its claims, such as being named the "Leader" in the 2022 Gartner Magic Quadrant for Endpoint Protection Platforms.
The emphasis here is on leadership in EDR and high detection coverage, appealing to organizations of all sizes that value top-tier threat detection and response capabilities. CrowdStrike's downside is pricing, scoring higher than most vendors in its category. However, this is not unreasonable given its leadership position.
SentinelOne's Product Positioning Strategy
SentinelOne sets itself apart with its strong machine learning-based threat detection and user-friendly platform. This blend of advanced technology and ease of use forms the USP of SentinelOne's offerings.
In terms of the target audience, SentinelOne, much like its counterparts, aims at businesses of all sizes, from small companies to large corporations and governmental organizations. They too offer a free trial, making it easy for potential customers to experience their solutions firsthand.
Their messaging remains consistent across all marketing materials, where they describe themselves as the "most innovative endpoint security solution." In addition, SentinelOne supports its claims with concrete data, like being named the "Leader" in the 2022 Gartner Magic Quadrant for Endpoint Protection Platforms.
SentinelOne focuses on innovation in machine learning-based threat detection and user-friendly platform experience, appealing to a broad audience who value technological innovation and simplicity. The biggest challenge for SentinelOne to overcome is its lower brand awareness compared to the other leaders (Microsoft and CrowdStrike).
What does this mean for your business?
When it comes to positioning your own product or service in the market, observing these industry giants offers important takeaways. The effectiveness of a strong and unique USP, the strategic targeting of audiences, and consistent, compelling messaging are all clearly displayed in these examples.
Consider your USP; it should clearly differentiate your product or service from your competitors. For Microsoft, it's their cloud-based platform and integrations. CrowdStrike relies on their superior EDR capabilities and high detection coverage, and SentinelOne distinguishes itself with machine learning-based threat detection and an easy-to-use platform.
Understand who your audience is and how your product or service meets their specific needs. All three companies cater to businesses of all sizes, but their offerings differ based on the unique needs of these businesses.
Be consistent in your messaging across all marketing materials. Each company we've discussed maintains consistency in their brand messaging, enhancing recognition and reliability in the eyes of their customers.
Conclusion
The positioning wars among cybersecurity industry leaders provide valuable lessons for any business. A clear and compelling USP, precise audience targeting, and consistent messaging are pivotal elements that contribute to the perceived value of a product, influence customer preference, and drive market competitiveness.
In any industry, but especially one as crowded and vital as cybersecurity, understanding these nuances is key. It's not just about having a great product, but effectively communicating its unique value to the right audience. This strategic product positioning could be the difference between blending in and standing out.